5AM SAINT! NEW OVERWORKS! 12 BEERS OF CHRISTMAS!
Equity for Punks is live! Click here to find out more about investing in BrewDog.
This week is the busiest for a long time in terms of amazing new BrewDog beer. Following last week's latest Spirit Barrel release from BrewDog OverWorks (codename: Gyronaut) this week two more new beers go live from our temple to alternative fermentation. Plus we go down a far more traditional route with the first sign of winter – our mixed festive case is out now. We also have the final seasonal release of 2019; the return of an old favourite. And there's more besides.
It's just another week of incredible beer on Planet BrewDog. As if you would want it any other way.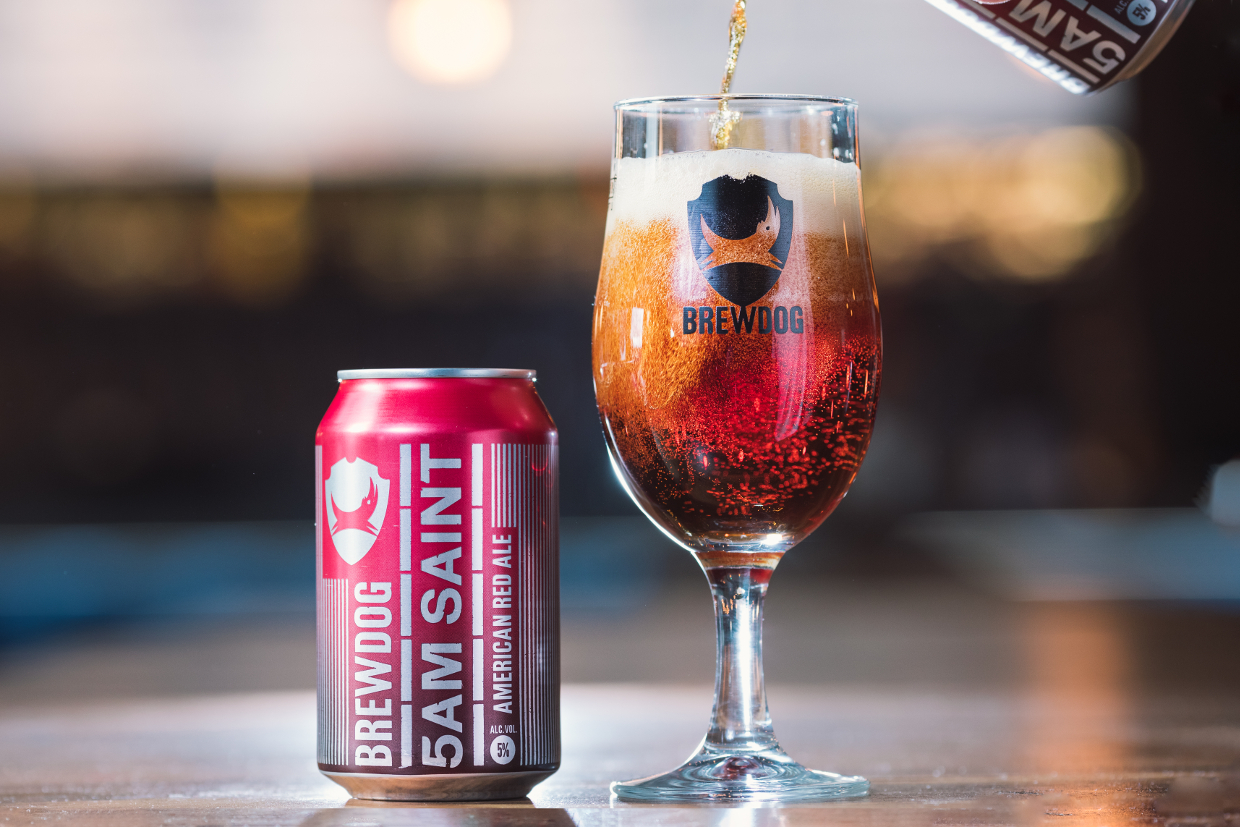 5AM Saint
You can buy 5AM Saint online in 4x330ml cans here
Rounding out our quartet of beers to match the seasons, we have the final act in a series that has moved from Hop Rocker to Instamatic and most recently, Cybernaut. Stop the clocks for the return of our homage to American Amber; 5AM is back in cans. First brewed in 2009 this red ale is a decade in the making – more so in fact as its roots lie in The Physics, a beer we created two years earlier. 5AM Saint is one of the most formative lines of our family tree; it returns triumphant.
This five malt, 5.0% ABV amber hits the big time with a seven-strong dry hop regime. Simcoe, Cascade, Ahtanum, Nelson Sauvin, Mosaic, Centennial and Amarillo arrive to bring with them a collision of berry and citrus flavour, riding on a wave of caramel and biscuit from the malt bill. Spice marmalade marries with chocolate in a perfect autumnal/winter warmer. 5AM Saint is a structured anarchy of malt and hops, released as a seasonal it is timed to perfection.
BrewDog OverWorks Disparate Elements #1 and #2
You can buy BrewDog OverWorks Disparate Elements #1 online here
You can buy BrewDog OverWorks Disparate Elements #2 online here
Also out now we have a thundering new line from BrewDog OverWorks – the inauguration of their Disparate Elements range. These are refined, blended sours created by selecting the best of our barrel store and working them together. Until that moment, the barrels had been abandoned with intent, an island of outcasts hiding in plain sight. The true skill of our cellar guardians is to call up these barrels and blend them into true one offs – Disparate Elements.
#1 is a hibiscus and lime sour aged in Rioja barrels, leading with a delicate, tannic base from the wood. When refermented with hibiscus flowers and lime zest it springs to life with floral and citrus aromas, with the OverWorks signature funky, complex flavour running to a bone dry finish.
#2 is a Strong Island blend. The OverWorks cellar has many threads; a myriad of different spirits in store. Our team of alternative fermentationalists took one from each for a blended beer inspired by Long Island Iced Tea. Vodka, Gin, Rum, Tequila and Whisky barrels, with lemon zest, give a triumph of no holds-barred blending.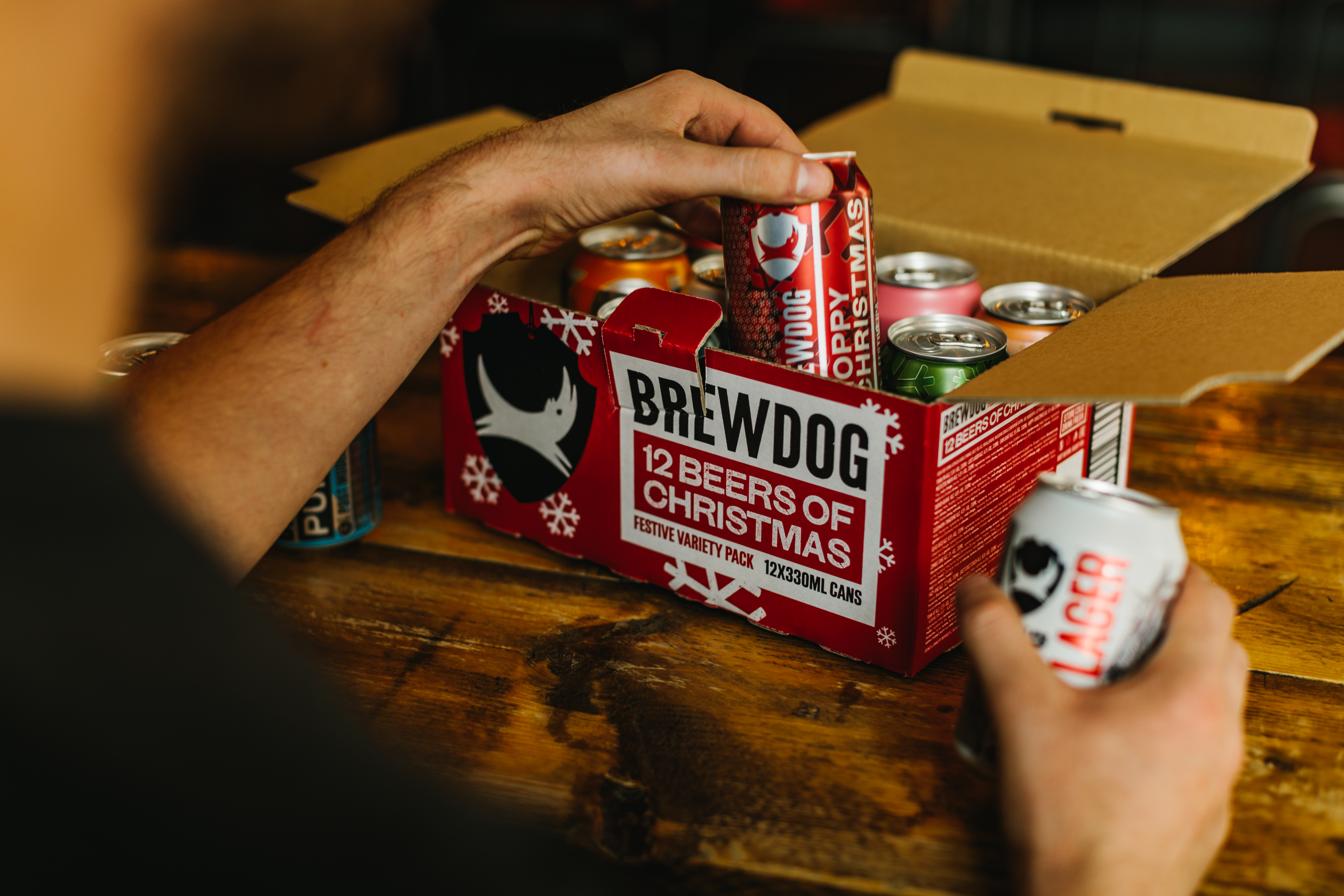 BrewDog's 12 Beers of Christmas
Nothing says the advent of winter like a party invite. If you have a festive gathering or office occasion coming up – or you just want to stock up on the good stuff before the season truly swings into gear – then we have this mixed case for you. It also makes a great gift for the beer lover in your life, and in an ideal size to fit under the Christmas tree and in the fridge!
Our 12 Beers of Christmas contains our headliners, seasonal releases and our festive beers all ready to go, featuring one each of the following; Punk IPA, Lost Lager, Punk AF, Elvis Juice, 5AM Saint, Mistletoe Mafia, East Coast Crush, Clockwork Tangerine, Quench Quake, Hazy Jane, Zombie Cake and Hoppy Christmas. Cheers!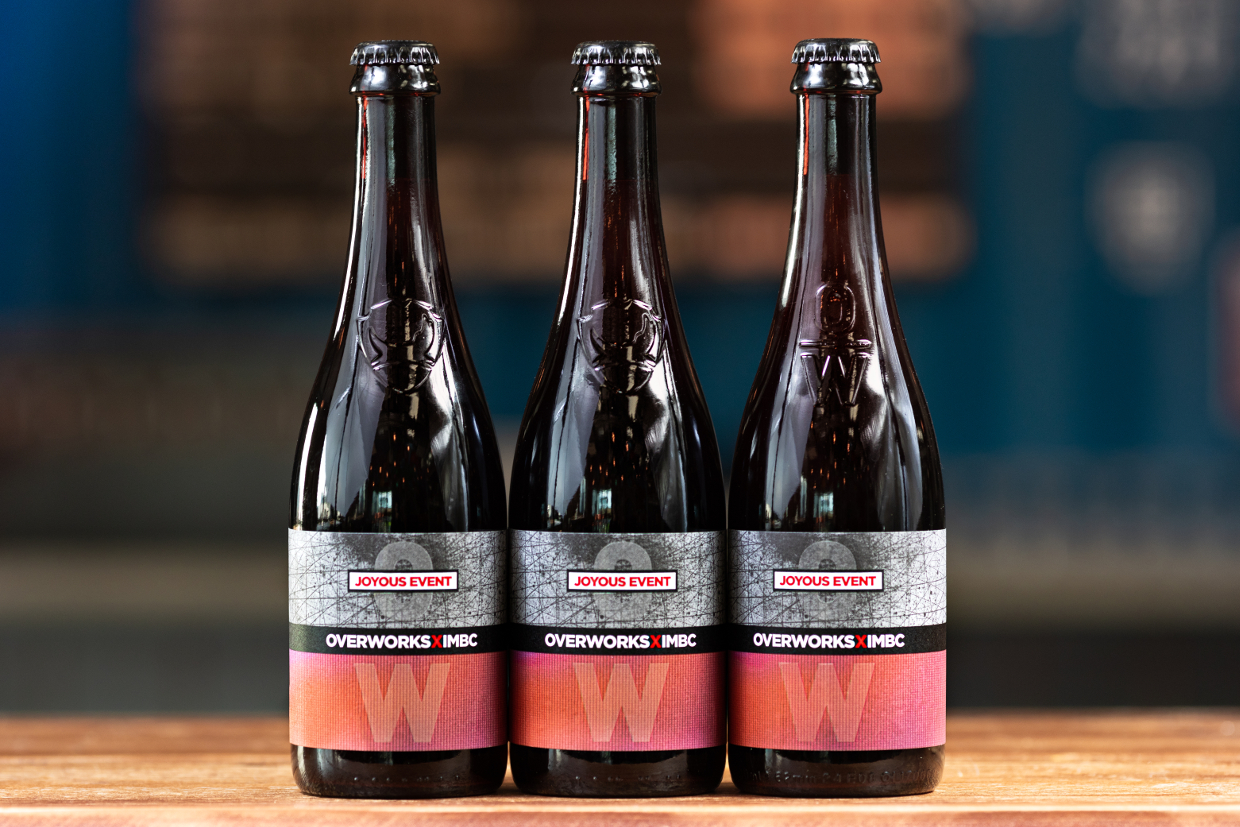 Other Releases
That's not all for new things to stockpile before the weekend. Leading the line is a super exclusive small batch OverWorks release brewed with and for our friends at IMBC. Manchester's finest collaborated with us on Joyous Event - a mixed fermentation IPA, dry-hopped with Huell Melon and aged in Rioja barrels. Also out today is the latest small-batch release from Hawkes Cider, True Roots is Ginger Beer for the 21st Century. With natural ginger, mandarin orange and at 4.0% ABV this is a perfect answer to the modern age.
You can check out all of our latest beer releases online here or they will be pouring from the taps of your local BrewDog Bar. You can also discover our latest Made for Us beer in our bars; this one hit the taps yesterday and is a clean, crisp 7.0% ABV West Coast IPA brewed for us by the mighty Siren Craft Brew. This is one you won't want to miss.
Equity for Punks is live! Click here to find out more about investing in BrewDog.
IMPORTANT NOTICE: Investments should only be made on the basis of information in the prospectus available at www.brewdog.com/equityforpunks. The value of investments can go down as well as up and invested capital is at risk.