BREWDOG AND BRITISH AIRWAYS
Our week-long reveal of #PunkAGM announcements concludes with this, the biggest and farthest-reaching collaboration in our history. We are taking to the skies with British Airways. To celebrate their centenary (and our decade of Dog) we have joined forces with British Airways on a unique craft beer brewed at 38,000ft and 500+ mph. Speedbird 100 is cleared for take-off on May 1st.
Named after the official British Airways call-sign in their centenary year, this golden amber IPA will be available exclusively on British Airways flights to celebrate their milestone. With candied citrus, floral and resinous notes followed by tropical fruit aromas, this new 4.8% ABV India Pale Ale is perfect enjoyed at any cruising altitude.
Last month our co-founders James and Martin brewed a batch on board a British Airways flight, in a world-first you'll be able to check out on a special edition of The BrewDog Show on Drink TV. We worked with the guys at British Airways on the recipe and are psyched that from May 1st you'll be able to taste our collaboration on their long haul and short haul flights, as well as in selected airport lounges.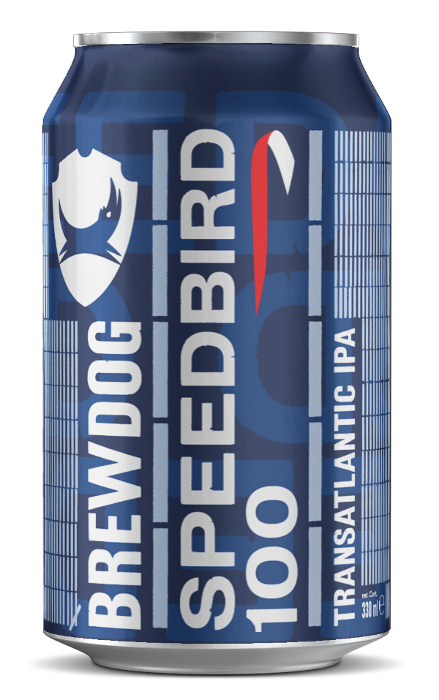 But that's not all.
We are also dialling in a small-batch exclusive beer from the BrewDog OverWorks team for those lucky enough to be travelling in First on British Airways. We are proud to be creating a new generation of sour and wild beers with our OverWorks facility – and more proud that very soon travellers on British Airways will be able to enjoy these beers at 30,000 feet and above.
AirCraft is a dry-hopped Brett-fermented IPA incorporates the rich fruity esters and flavours from Brettanomyces with the notorious tropical hops of the south pacific for a bold but balanced hop experience.
For too long, taking a plane has meant a limited selection of beer on offer but we love the fact that British Airways have worked with us to make this a thing of the past. They share our belief that you should be able to enjoy amazing beer wherever you are going.
Get ready to enjoy the best craft beer, whatever your destination.