BREWDOG BARS – WHAT WE STAND FOR
Here at BrewDog we want every one of you to have an amazing time inside one of our bars – wherever it happens to be. And as we welcome more bars into our network we have been working on ways to minimise our environmental impact and benefit everyone. You already know what we do – cutting edge craft beer, freshly-cooked food and next-level service (all set to a kick-ass soundtrack) – but here is what we stand for. This is the BrewDog way of thinking:-
Living Wage
Nobody is more important to us than the people who work for BrewDog. That's why we are celebrating five years of being a Living Wage Employer, accredited by The Living Wage Foundation. Updated with new rates each year we have the backs of everyone who works in our bars, at our HQ or on the road for us. This means that every member of team, no matter their age, gets paid at least £9.00 per hour outside London and £10.55 per hour in London.
This is substantially more than the government national "Living Wage" of £8.21 per hour (which is also paid only to those over 25) and means that we can rest easy at night knowing that the most important people in our business, those at the front line, get paid a fair amount of money for the awesome work that they do for us. You can check out the latest careers we have in our BrewDog Bars right here.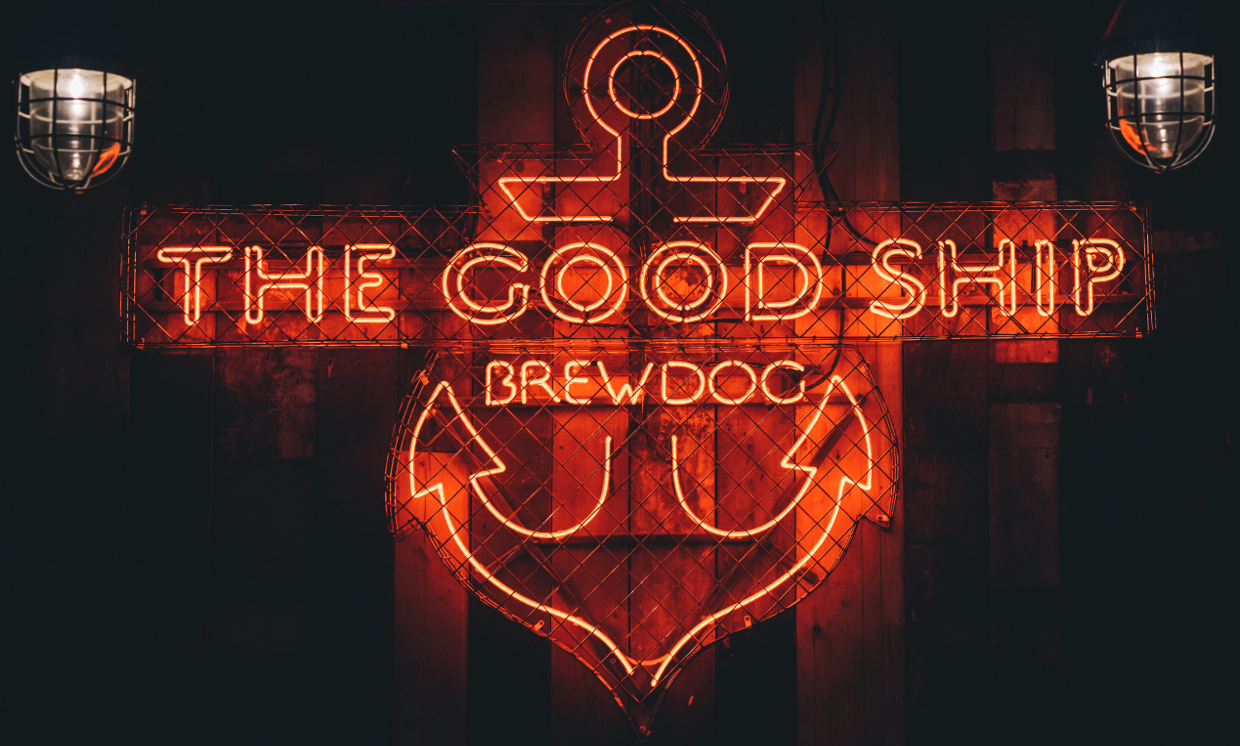 The Unicorn Fund
In 2017 we issued a blueprint to build a radical new type of business, one driven not by profits, but by purpose. We launched a pledge to give away 20% of our profits annually, in a world-first community-fuelled programme code-named the Unicorn Fund. At its heart; not altruism, but impact. 10% of those profits are divided between our staff members, building our company into one that all of our amazing team members and all of our fantastic Equity Punks are proud to be a part of.
The BrewDog Foundation
The other 10% of our profits to be given away are done so via the BrewDog Foundation, where we donate up to £1 million each year to charitable initiatives chosen by our crewmembers and our 100,000 Equity Punks. Any charity close to their hearts can be nominated; we are on a mission to change the world of beer and want to help install a way of working that helps change the world as much as we can. If you have any questions about the BrewDog Foundation, drop an email to [email protected]!
Our New Food Philosophy
As we revealed on the BrewDog blog last week we are proud to serve farm-to-table junk food in our bars. We can trace each ingredient back to the source and take as much care about this as we do when preparing them. As beer lies at the centre of everything we do, every item on our menu is designed to pair with our craft beer – and many feature beer as part of the dish. Recommendations are printed on our menus; you can also ask one of our Cicerone-trained bar crew for their beer and food tips!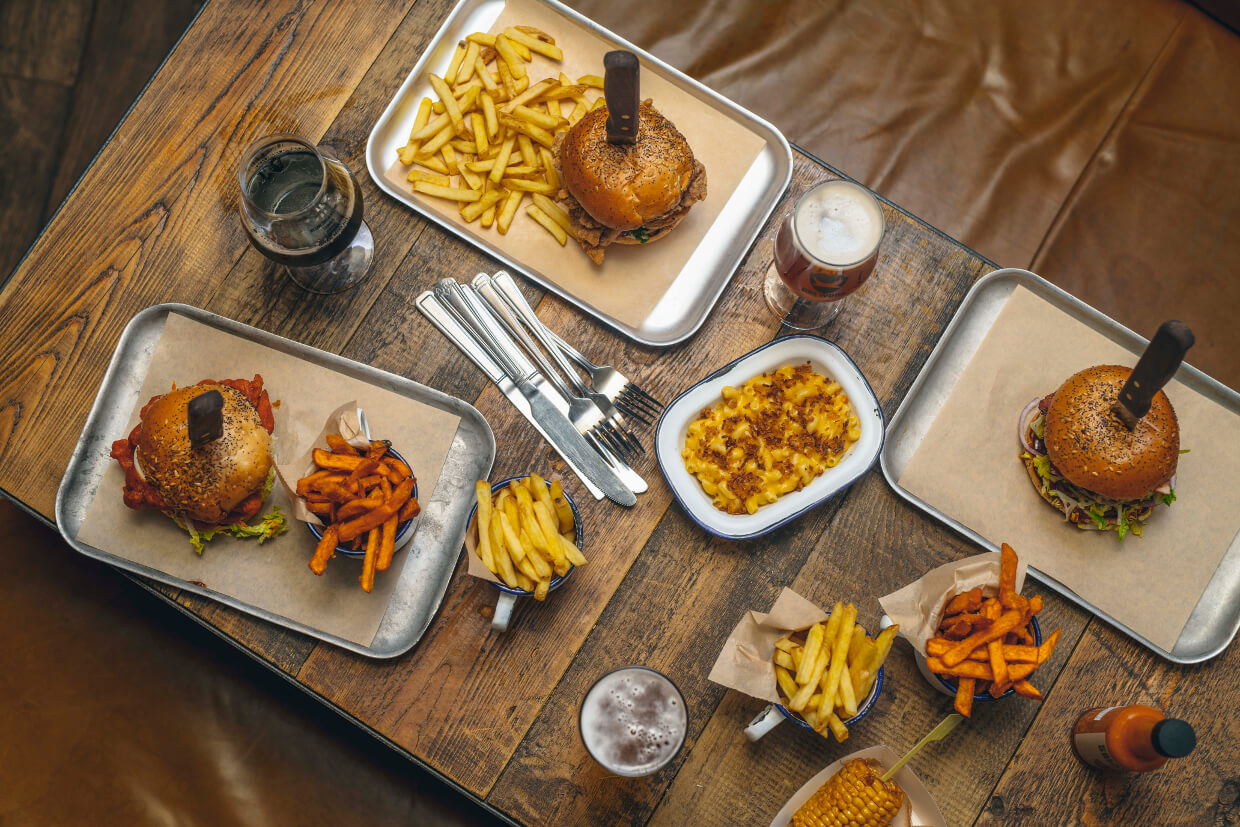 We Champion the Alternatives
We are also proud that over half of all options on the BrewDog bar food menu are vegetarian, and a quarter are vegan. Plant-based alternatives have less of an impact on the planet, and they reflect the fact that 95% of BrewDog beers are suitable for vegans. We cater for all and believe in bold flavours in beer and in our food; whether meat, veggie or vegan.
£1 Takeaway Coffee for Reusable Cups
All of our bars serve freshly-brewed coffee, roasted by hand at our Ellon HQ. From now on anybody who brings their own re-usable coffee cup into a UK BrewDog Bar can walk away with it filled for just £1. Think of it like a daytime growler fill to keep you going.
Eliminating Plastic
We have ditched all plastic from our packaging and switched to fully recycled and recyclable card for our multipack holders. No more rings, no more grips, nothing to dispose of. Just a four-pack of amazing beer, a quartet of 100% recyclable aluminium cans and an easy to recycle cardboard container.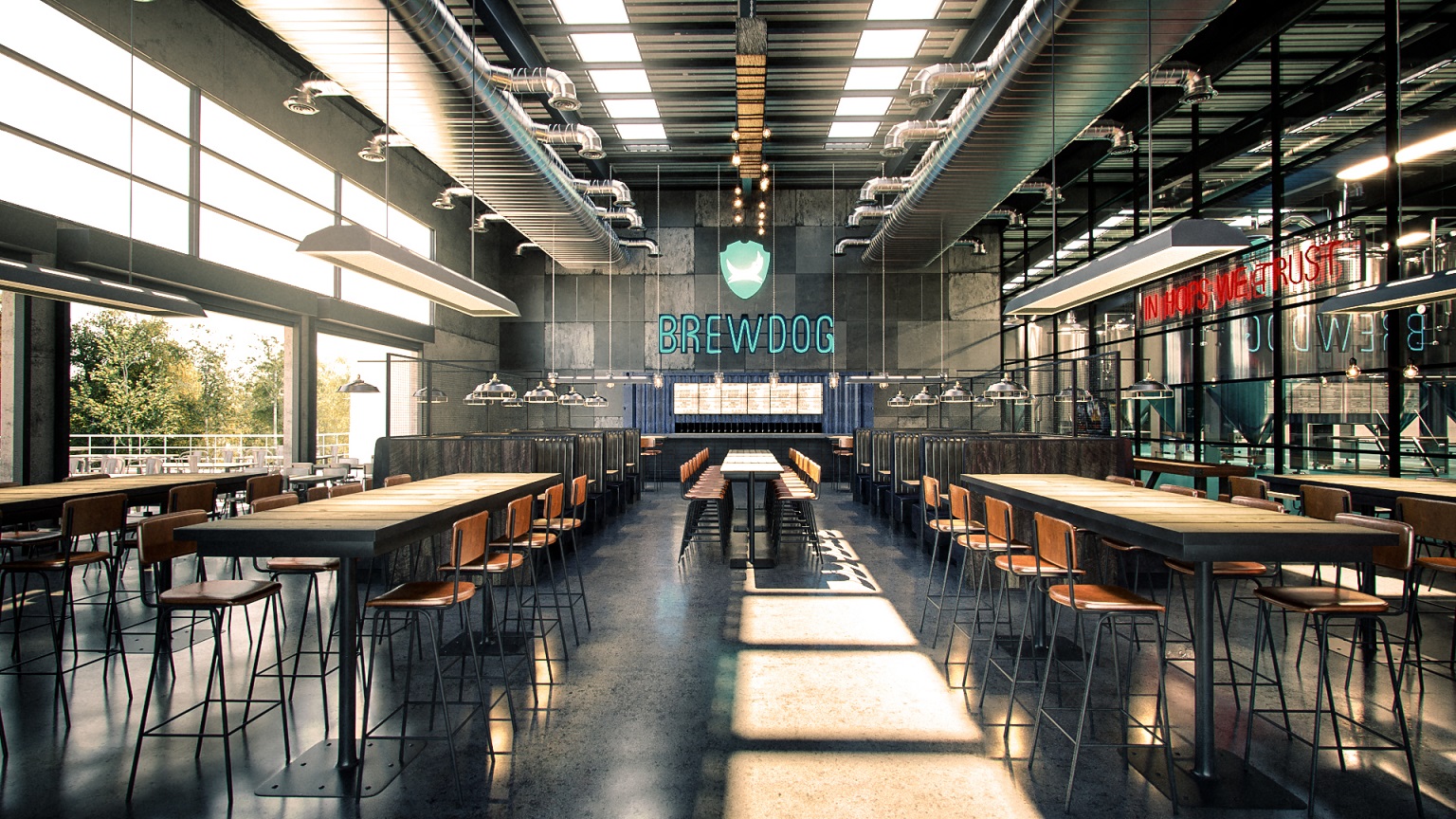 Shortening the Distance
Back in the day we had to brew all beer for export in our Ellon brewery but having new brewhouses on three different continents cuts the need for this hugely. Thanks to our US brewhouse in Columbus and our new German brewery in Berlin (and upcoming Australian brewery in Brisbane) we can brew closer to our customers and minimise our carbon footprint.
Each of these programmes are there to help minimise our impact on the environment and help as many people as possible. Alongside brewing the best craft beer we can, we believe the way to set yourself apart in business is to give back, champion the alternatives and be proud of where your materials come from.
That is what we stand for.