THE INTERSTATE STICKER CLUB
One thing about growing up is that you realise you are never too old to still do the cool stuff, like watching cartoons, riding a BMX or refusing to eat your broccoli. As an adult you can do them 24/7 if you want. Something to add into that list – collecting stickers. From swapsies in the playground to the modern day, collecting never gets old. We know this. Now you can re-discover it too, thanks to the BrewDog Interstate Sticker Club. And it launches today.
And to instil it with a competitive edge? The first two completed sticker books will win their owners a trip on the maiden flight of BrewDog Airlines, to Columbus Ohio!
You can buy your Interstate Sticker Club album online here
You can buy packs of Interstate Stickers online here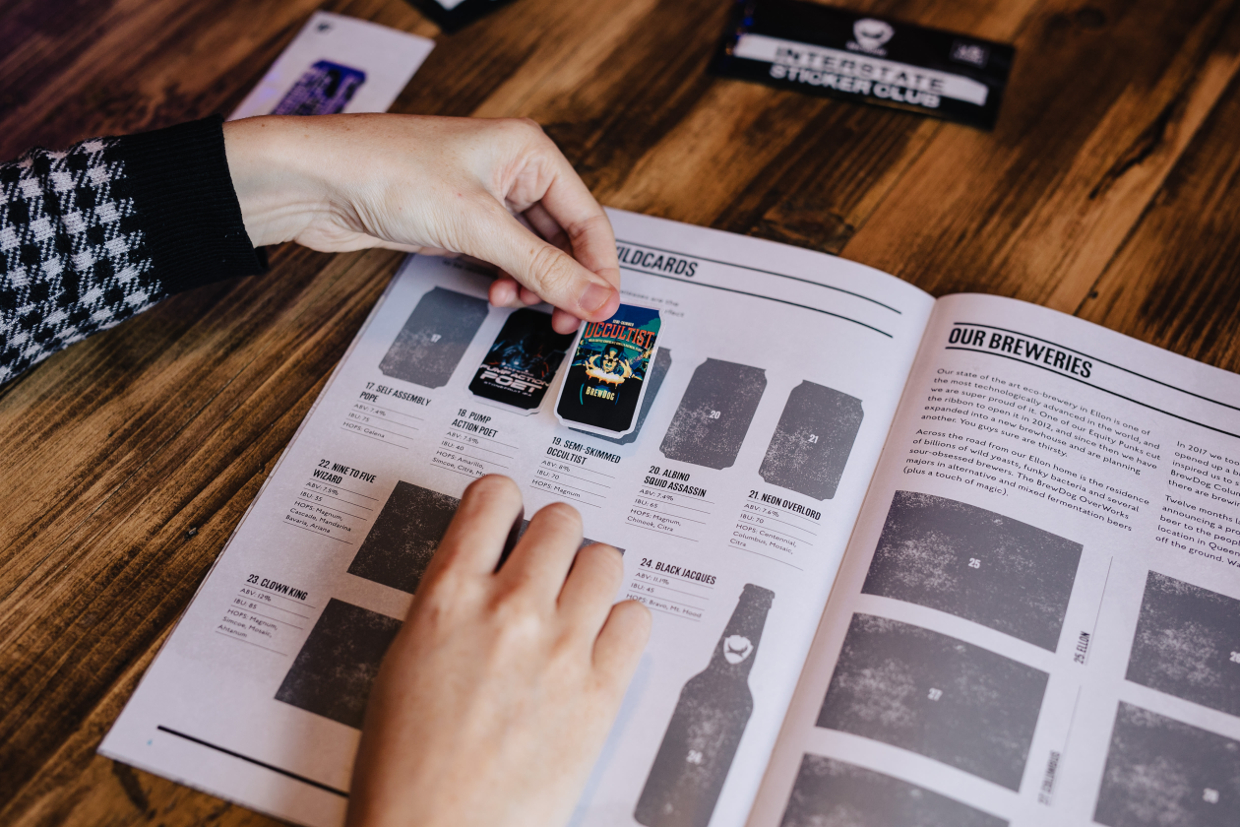 We have worked with a cool sticker company to create a book and 100 BrewDog-themed stickers,* all of which are now available randomised in packets of five online. Stickers and books are also on sale at your local UK BrewDog Bar for instant sticking over a beer! Priced at £2 for the sticker book and £1 for each pack of five, the stickers cover our beers, favourite hops, breweries and the brewing process (with more besides). So educational, as well as fun!
* And yes, we will have shinies.
This came about as part of our Decade of Dog celebrations last year, when we pondered a way of marking our past in an equally throwback fashion – or we did for all of three minutes. It had to be stickers. So we deployed the ultimate retro format for this journey back in time and there is no better way to revisit some of our favourite BrewDog beers. From small batch to Seasonals, old Abstrakts to modern Headliners. They are all here, ready to be uncovered and unpeeled.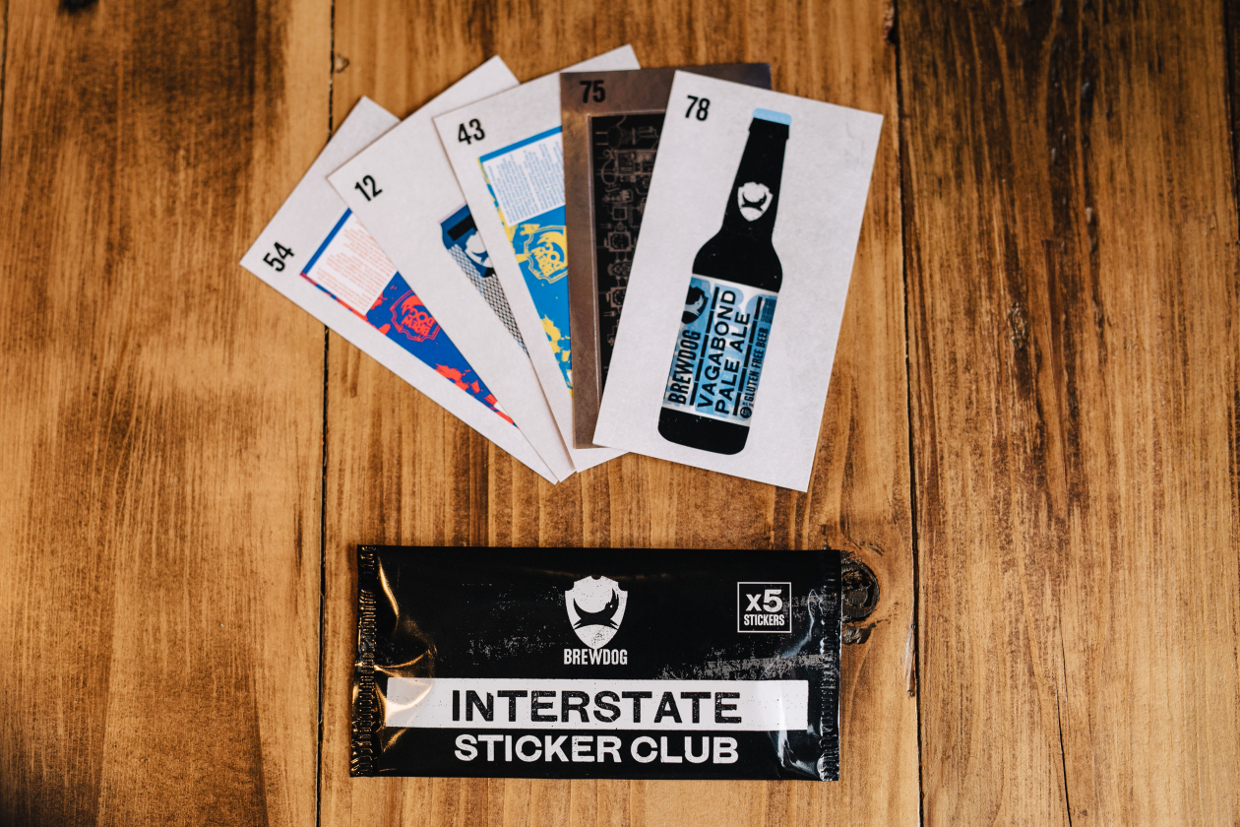 Back in the day just completing the book was reward enough, along with the upgrade in status at your next break time. But we're all adults now. So we are offering a real prize to those who knuckle down and collect 'em all. Two lucky stickerers will win the chance to fly with us from the land of stickers to the land of baseball cards – the United States of America!
Once you have the full 100 completed (neatly inside the lines or not, we won't judge) then get in touch with us the moment that last sticker is in place. Email [email protected] and we'll get right back to you. We will ask for photographic proof to check the 100 are 100% and if they are you'll be on the plane! (There isn't a sticker of the plane).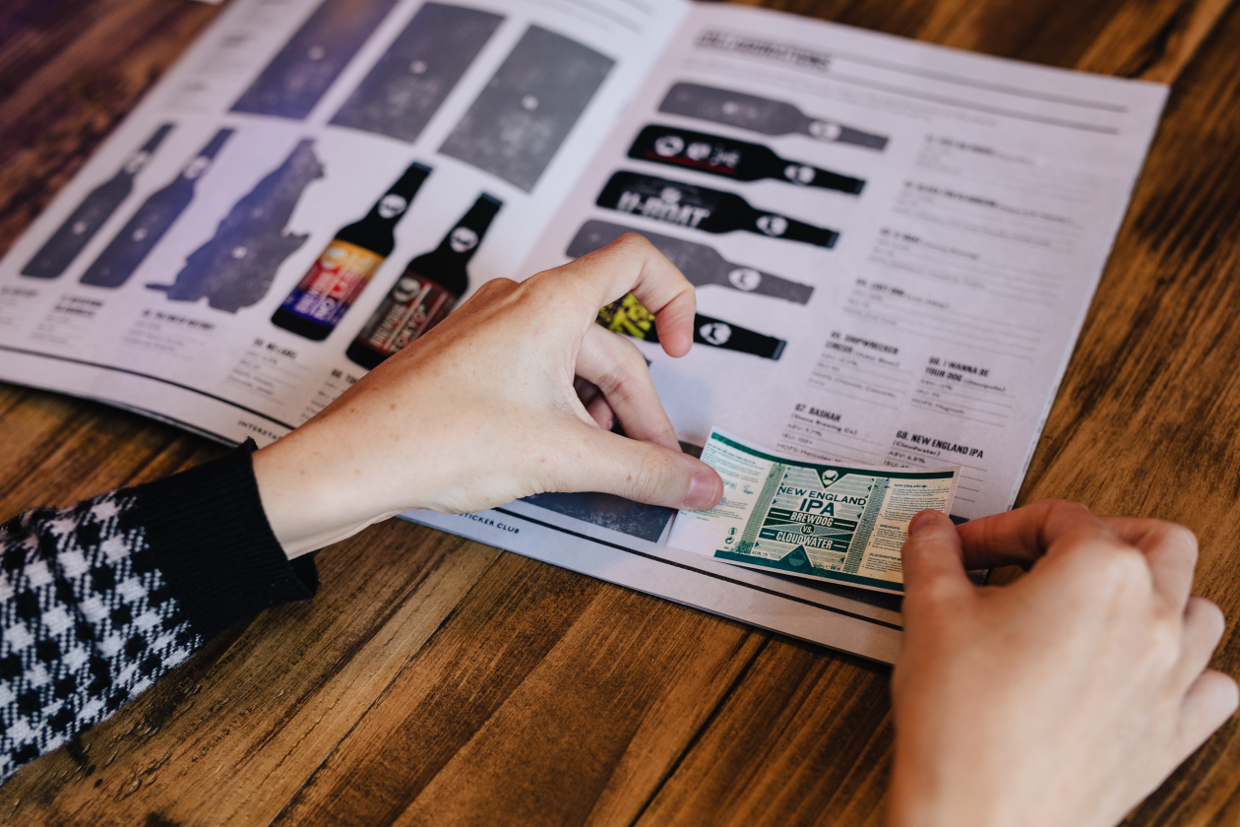 We still remember the anticipation of opening a new pack, back in the day. We are psyched to be able to relive that feeling and give you a chance to unpeel the backing, roll back the years and get stuck in. You can buy our sticker book online here and sticker packs online here and from any UK BrewDog bar from today, Friday November 23rd. Crack open a beer, open a pack and realise that you're not too old for stickers.
You can grow old but you should never grow up.
Competition Terms and Conditions:- 1) Winners will be determined by BrewDog once completed books have been verified. 2) Prize winner must be over 18 and legally able to travel to the United States. 3) Prize winner is responsible for having a valid passport and ESTA in time for travel. 4) Prize winner is responsible for their own travel to London Stanstead for the flight. 5) No plus 1, 2 tickets only to the first two people to complete the book. 6) Prize is non-transferrable. If one of the first two cannot attend, we will offer to the third placed person, and so on. Best of luck!