TAKING A STAND FOR THE ENVIRONMENT WITH THE BREWDOG HYBRID BURGER
At BrewDog we are proud to champion the alternatives. So today we are launching an environmentally sustainable alternative to our unique burger line-up, with zero compromise on flavour. The Hybrid Burger. Available now at our UK, US and select European BrewDog Bars it is 50% Beyond Meat and 50% sustainably-reared beef, whilst also being entirely dairy free and surrounded by 100% vegan ingredients.
It is a unique Hybrid created to be the best of both worlds, in order to help our own.
A recent study concluded Americans could save greenhouse gas emissions equivalent to that produced by 12 million cars simply by introducing a meat-free alternative into their weekly eats. Emissions from cattle are now more damaging to the planet than those from transport. So for those who are or want to go vegan, every single BrewDog Bar rocks a menu where half the options are vegetarian and 25% vegan, as a key pillar of our food philosophy. Now for those who want to reduce their intake and their footprint on the environment, we have the Hybrid Burger.
Sandwiched between two green matcha tea buns, the 50/50 Hybrid burger is surrounded by 100% vegan ingredients. Melted vegan Gouda cheese, crispy onion straws and a potato rosti are there to help introduce more meat-eaters to the world of plant based dining, while further increasing the sustainability of the burger. This is about achievable, everyday changing, any time you need it. As we are in the grip of a climate emergency, the more people who eat less meat the better. That is why we have launched this fresh take on flexitarianism.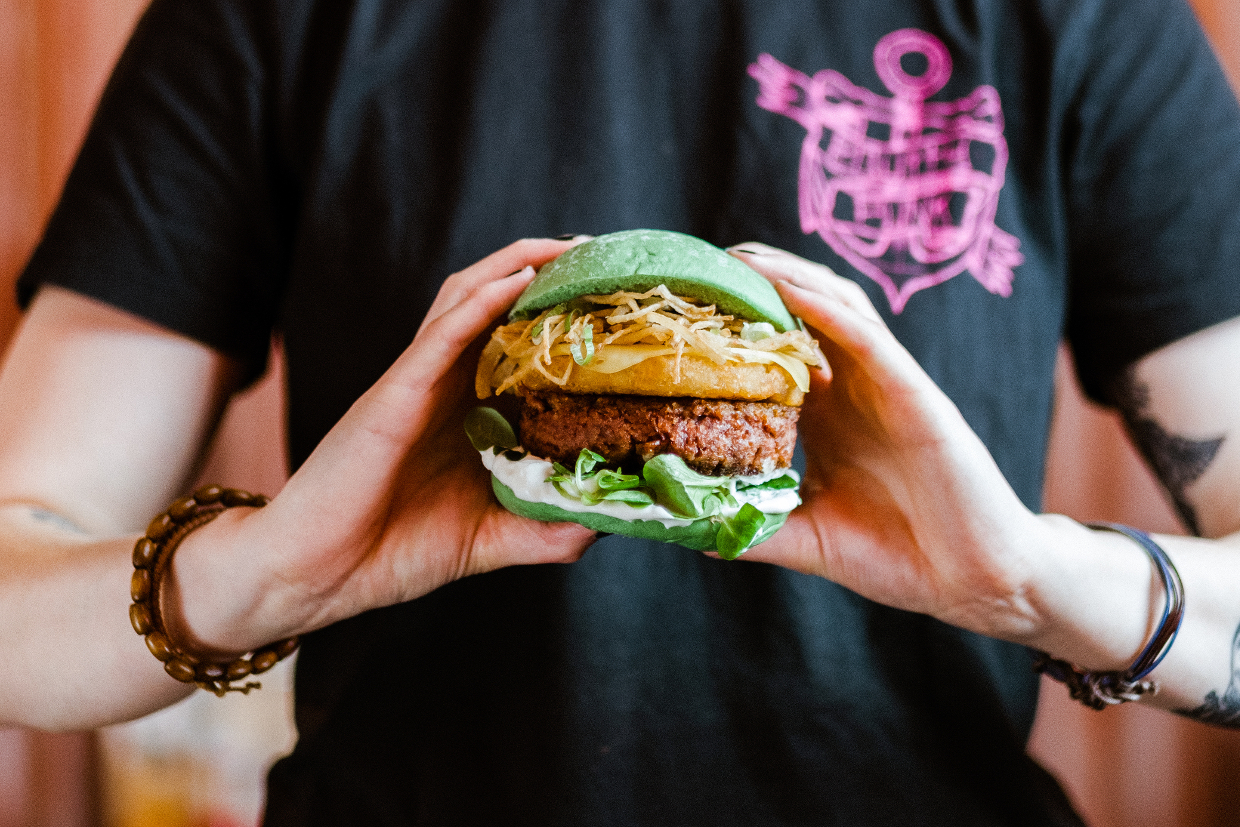 We wanted to make a burger that delivered on flavour and enabled anyone to make a transition to eating less animal based protein. Our amazing bars team have delivered with this new Hybrid Burger; a unique stepping-stone to a better place. To celebrate its launch we are offering 50% off our new burger from October 3rd to October 10th. Just drop into your local BrewDog bar & say "Flexitarian" to give it the taste-test at half the price.
The Hybrid burger joins a menu peppered with fantastic vegan and vegetarian options, including our house favourite Buffalo Cauliflower Wings and our ever-popular 'Hail Seitan' burger (you can learn more about these offerings here). With the Hybrid Burger we now have another way to get your burger-fix whilst still doing your part for the environment and generations to come.