INTRODUCING FIVE HUNDRED CUTS RUM
Equity for Punks is live! Click here to find out more about investing in BrewDog.
The BrewDog Distilling Company is charged with a single mission; to challenge perceptions of what a spirit can be. This is done with a meticulous eye for detail and an approach born of non-compromise – meaning everything is done under one roof, from scratch. Nothing is rushed. For a case in point we unveil their incredible hand-made rum Five Hundred Cuts – which took six months and thirty-five recipes to uncover. But their work has been very much worth it.
Five Hundred Cuts Botanical Rum is out now.
You can buy Five Hundred Cuts Rum online here.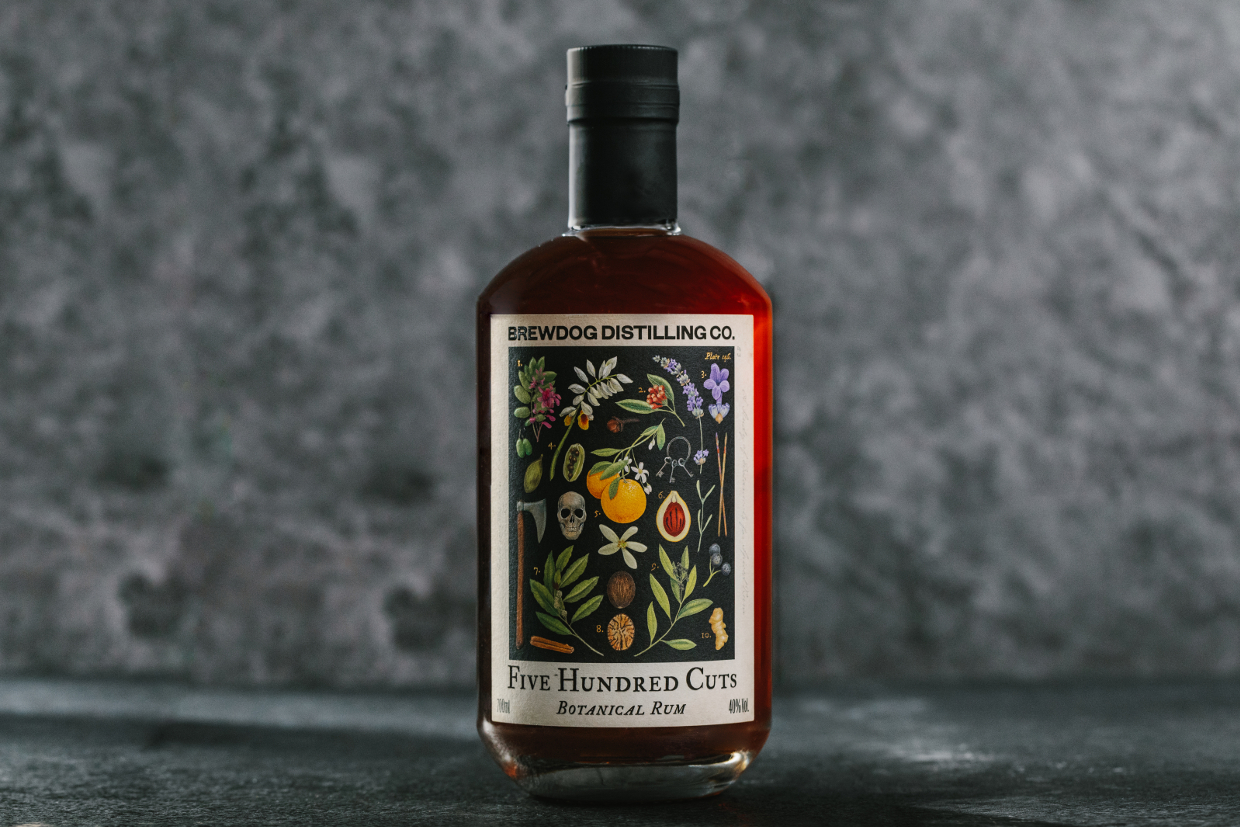 This authentic, handcrafted rum exists to subvert the Status Quo when it comes to the bloodline of this spirit. Distilled in the world's first triple-bubble still, after a five-day fermentation it is then double-pot distilled to create a white rum rich in flavour of tropical fruit and dark berries.
The BrewDog Distilling Co team then infuse a combination of this white rum with Tonka beans, cinnamon, nutmeg, ginger and spices; the remainder is pot-distilled with an abundance of fresh orange peel, Schezuan peppercorn, green cardamom and cloves. The result is a full-flavoured blended botanical rum that is real in every sense. Free from artificial ingredients, full of spice and citrus zest; it is a product of meticulous craft.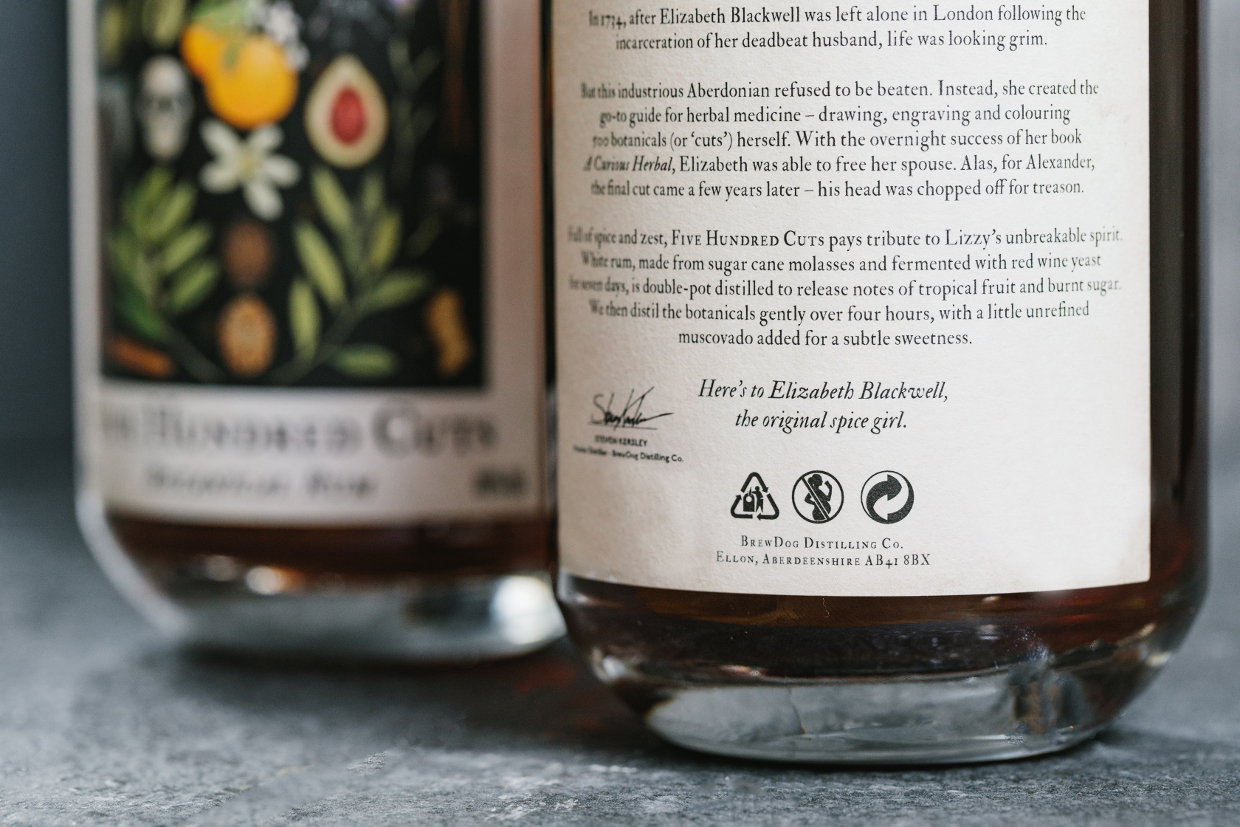 Five Hundred Cuts pays tribute to the unbreakable spirit of Aberdonian heroine Elizabeth Blackwell. In 1734 with her husband in a debtor's prison, she used her knowledge of botanicals and herbs to write the pioneering guide to herbal medicine 'A Curious Herbal'. Despite being crippled by debt and with a family to feed, she illustrated and engraved the 500 botanicals (known as 'cuts') herself, and used the success of the book to free her husband from prison.
For the perfect serve, our expert team of Distillers recommend a tall glass packed with ice. Add a 50ml measure of Five Hundred Cuts, top with cola and serve with a freshly-cut slice of lime. The bold flavours of the rum include warm cinnamon, intense allspice and subtle Tonka which balance the flavours of the cola as the lime garnish adds acidity and a top note of citrus. This cuts through the spice and sweet flavours and leads to a long, vibrant finish.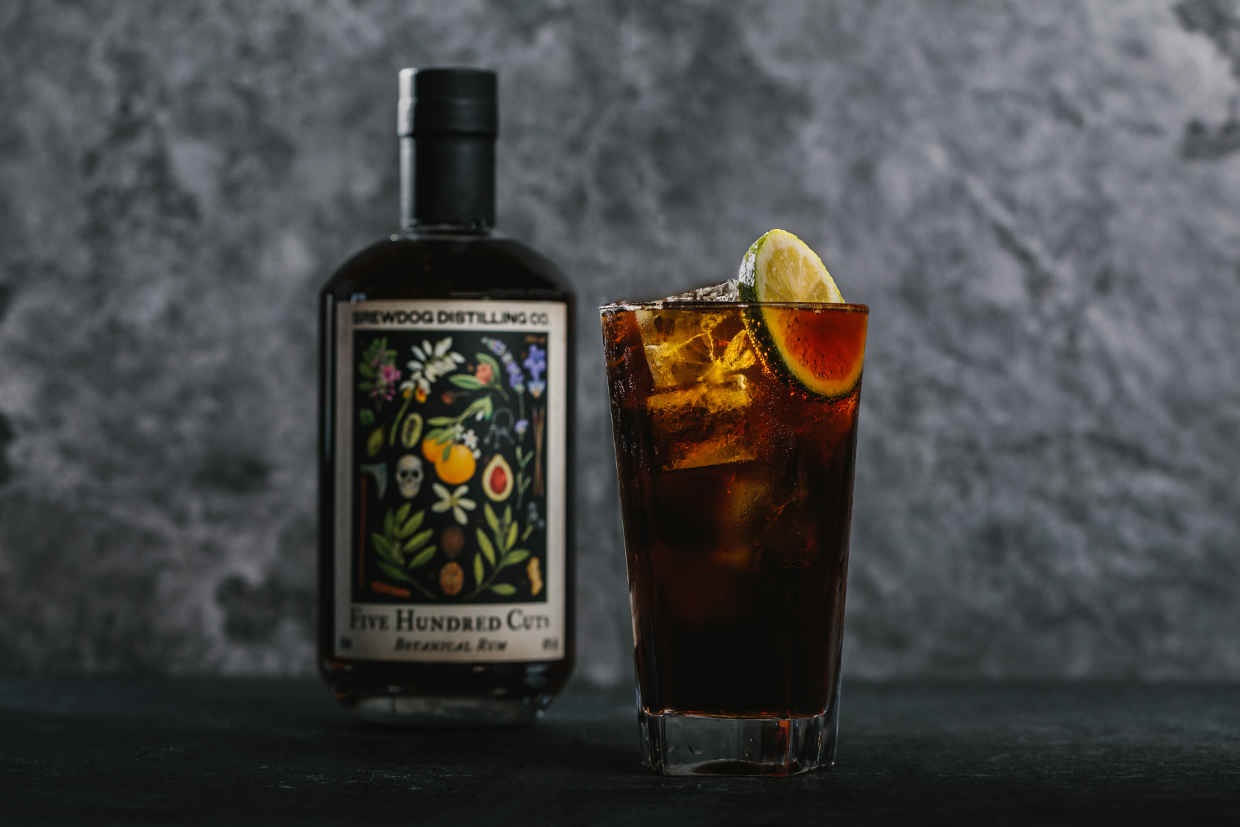 Five Hundred Cuts is out now and available to buy online – we are also launching it in all UK BrewDog Bars today, Wednesday 23rd October. Head down to your nearest bar and join us as we raise a glass to a true Aberdeenshire heroine – Elizabeth Blackwell.
Equity for Punks is live! Click here to find out more about investing in BrewDog.
IMPORTANT NOTICE: Investments should only be made on the basis of information in the prospectus available at www.brewdog.com/equityforpunks. The value of investments can go down as well as up and invested capital is at risk.